Run bookmarked (recorded) script, app, file or open a file, document or folder
For Windows® users with many scripts, applications repetitively started, documents routinely opened or regular folders to be opened You Can Launch will launch it quickly.
Launch From the Run List
Double click on the bookmark line or right click for the popup menu: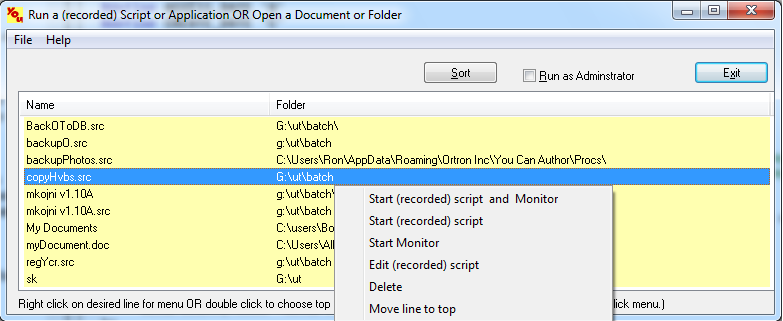 The Run List is especially helpful for running recorded and other You Can Author scripts (.src files). The Monitor can be opened simultaneously so you can track the progress of the script as it runs. From the Run List a script can be opened for editing, if needed.
The run List is accessed from the Windows Taskbar Tray You icon or You Can Do It Toolbar in Windows Explorer.
Bookmark an App, Document, File or Folder
Open the folder in Explorer (ex. sub folder My Pictures). Select the file to bookmark by left clicking on it. Right click on it. Click the You icon line, then click BOOKMARK a File to Run Later or be opened.
System Requirements:

Windows XP, Vista, 7


Visual Basic scripts run on any


Windows with WSH 5.6 or later